Best Sellers
Two Player Mini Starter Box Union V Warrior Nation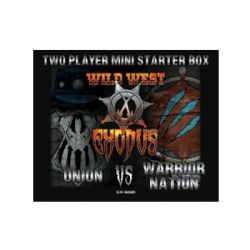 Get a taste of the action with the Two player mini starter box Union VS Warrior Nation, which contains 8 miniatures.

This box set contains

Warrior Nation
•Human form Sitting Bull
•Brave w/Gatling Gun
•Flowing River
•Zarelda Kincade

The Union
•Gen. Grant Alt 4
•Line Troop w/Gatling Gun
•Sierra Icarus
•Jake Mattia

Please Note: Miniatures are supplied unpainted and some assembly will be required.

More details ...
---
Warrior Nation Box
Warrior Nation Starter Kit (13 Models):
1x Sitting Bull (Boss)
1x Walks Looking (Sidekick)
5x Close Combat Braves (Hired Hands)
5x Long Range Braves (Hired Hands)
1x Brave with Heavy Weapon Gatling Gun (Light Support)
1x Quick Start Rules
Note: Product sold unpainted and some assembly required.

More details ...
---
Legendary Elita Nura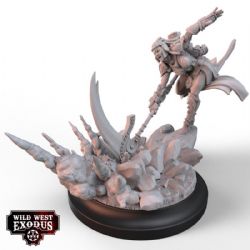 This contains
•1x Legendary Nura Miniature
Please note: These models come unpainted and unassembled.

More details ...
---