Imperial Assault casts you and your friends into the climactic events following the Death Star's destruction above Yavin 4, and offers two full game experiences within the Star Wars saga. In the campaign game, you and up to four other friends play a series of thrilling missions woven together in a narrative campaign, and in the skirmish game, you and your opponent muster your own strike teams and battle head-to-head over conflicting objectives. Whether you play as a hero of the Rebellion and fight alongside iconic characters like Luke Skywalker and Han Solo, or command the seemingly limitless armies of the Galactic Empire, you'll enter the Star Wars universe in Imperial Assault.
As well as the core game we also have the following expansion sets in stock: General Weiss, Royal Guard Champion, IG-88 Villain, Han Solo, Chewbacca, Rebel Troopers Ally and Rebel Saboteurs Ally.
Z-95 Headhunters and E-wings now back in stock for X-wing.
Now available to advance order are the new plastic 28mm kits from Rubicon. Models released include Stuka zu Fuss and Stug III G
STAR WARS ARMADA has just arrived.
Zombicide Season 3 - Rue Morgue now available to advance order. Alleged release date next week.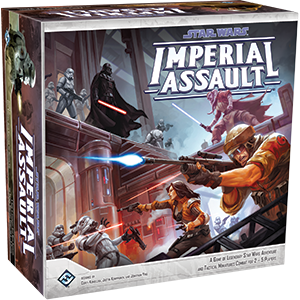 More details ...