---
Best Sellers
Star Wars X-Wing Miniatures Game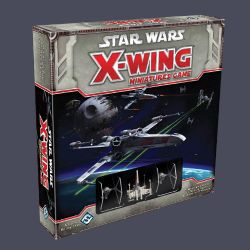 X-Wing is a tactical ship-to-ship combat game in which players take control of powerful Rebel X-wings and nimble Imperial TIE fighters, facing them against each other in fast-paced space combat. Featuring stunningly detailed and painted miniatures, X-Wing recreates exciting Star Wars space combat throughout its several included scenarios. Select your crew, plan your maneuvers, and complete your mission!
The X-Wing starter set includes everything you need to begin your battles, such as scenarios, cards, and fully assembled and painted ships. What's more, X-Wing's quick-to-learn ruleset establishes the foundation for a system that can be expanded with your favorite ships and characters from the Star Wars universe.

More details ...
---
TIE Phantom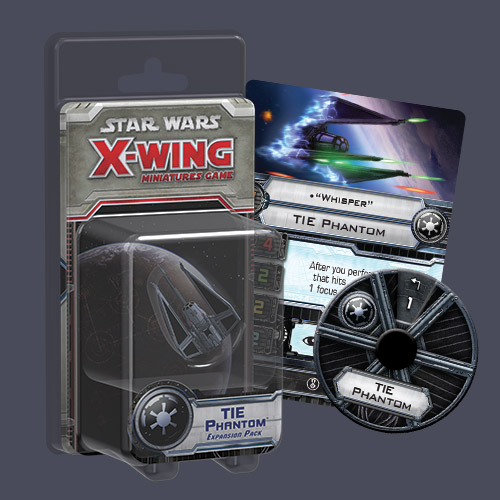 With its stygium crystal cloaking device, deflector shields, and hyperdrive, the TIE Phantom is one of the most menacing starfighters in the galaxy! The TIE Phantom Expansion Pack for X-Wing™ brings this fearsome fighter to life with a pre-painted miniature carefully sculpted at 1/270 scale and new rules for cloaking. Imperial players will be able to further customize their Phantoms with four ship cards, new modifications, and system and crew upgrades. The Rebellion will never know what to expect!
This is not a complete game experience. A copy of the X-Wing Miniatures Game Core Set is required to play.

More details ...
---
TIE Advanced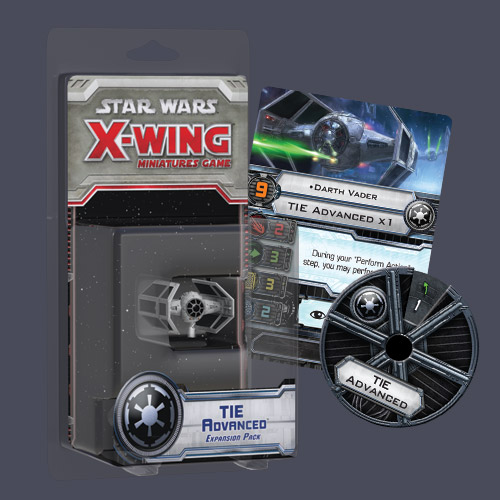 The legendary and merciless Darth Vader blasts into furious combat, along with three additional Imperial pilots, in the TIE Advanced Expansion Pack for the X-Wing Miniatures Game. A noted improvement on the widely used TIE fighter, this fighter features shielding and improved weapon systems. Upgrade the fierce TIE Advanced with powerful cluster or concussion missiles, and demolish even the toughest enemies. This pack includes one detailed painted miniature, its necessary cards and tokens, and one dial.
This is not a complete game experience. A copy of the X-Wing Miniatures Game Core Set is required to play.

More details ...
---
Heroes of the Resistance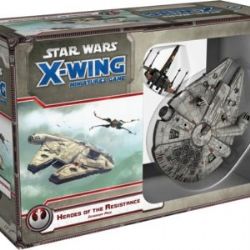 Rey, Finn, Poe Dameron, and the heroes of The Force Awakens fight for freedom with the Heroes of the Resistance Expansion Pack for X-Wing™. Featuring new sculpts for the Millennium Falcon and Poe Dameron's black-and-orange T-70 X-wing, Heroes of the Resistance also expands your fleet with three unique X-wing pilots, as well as new versions of Han Solo and Chewbacca. Meanwhile, the pack's eighteen upgrades introduce new elite pilot talents, Tech upgrades, and unique Title upgrades for both the Millennium Falcon and Black One.

More details ...
---
Slave I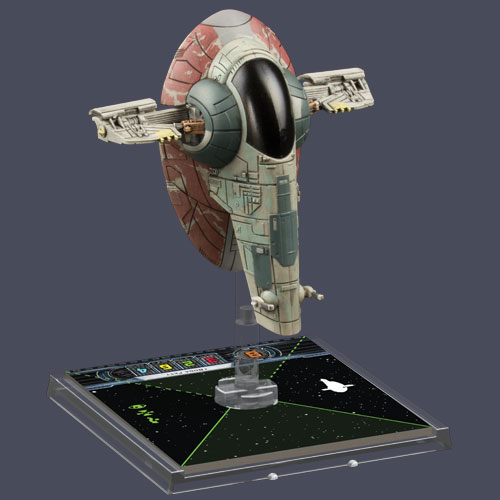 Originally intended as a prisoner transport, the Firespray-31 gained notoriety through association with some of the galaxy's most fearsome pirates and bounty hunters, including the infamous Boba Fett. The Slave I™ Expansion Pack for X-Wing™ allows players to take advantage of the Firespray's versatile armament and heavy armor plating, as well as a host of deadly new upgrades. Slave I comes with a detailed miniature, four pilot cards, twelve upgrades, and all requisite tokens. New rules and a new mission further expand your games of X-Wing!

More details ...
---