---
Advanced Order
The Battle for Berlin Battle-Set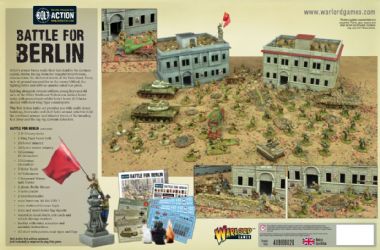 A Plastic, Metal and Resin complete battle-set.
• Contains a HUGE amount of models, buildings, vehicles and vignettes.
• Plastic buildings, resin barricades and many other items which are not available elsewhere.
• Fight the battles of the last desperate days of the Third Reich in the streets of Berlin.


More details ...
---
The Road To Berlin Campaign Book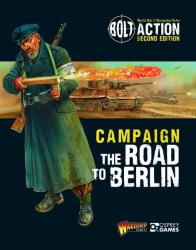 Bolt Action 150 page soft cover Campaign Supplement.
• This new supplement details Operation Bagration, the Russian advance towards Germany, plus much, much more.
• Fight your armies on the Eastern Front, through the streets of Warsaw and Prague to the desperate urban battles of Berlin.
• Contains new linked scenarios, rules troop types and theatre selectors.
The special model
What was a normal traffic director, became a world wide icon over the victory of Nazi Germany, Maria Limanskaya (also mistakenly known as Anna Pavlova) became a symbol of the Allies victory over the Axis forces

More details ...
---
Chindit Characters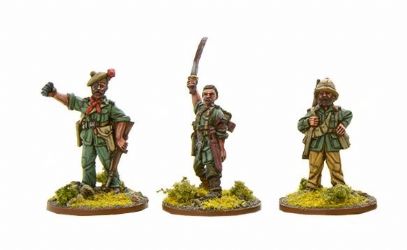 Blister pack containing 3 metal miniatures.
• This pack has been re-released to support our Chindit products.
• Three great characterful commanders who will bring colour to any Chindit force
• Modelled on real Chindits this pack depicts Major Bernard Fergusson, Major-General Orde Wingate and Lieutentant George Albert Cairns.

More details ...
---
Chindit Flamethrower & Light mortar teams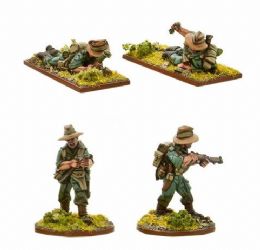 Blister pack containing 4 metal miniatures.

More details ...
---
Chindit HQ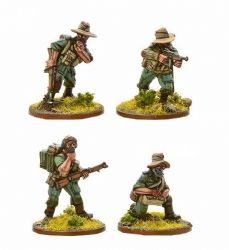 Blister pack containing 4 metal miniatures..
• We have re-released and revisited our Chindit range, these miniatures are now sold as single pieces not with separate head.
• The code number for this pack has also been changed.
• Four great characterful command figures for this unusual army.

More details ...
---
More Advanced Order products ...
Best Sellers
Armies of Germany v2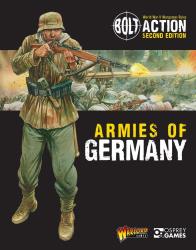 'Armies of Germany 2nd Edition' is a supplement for our award winning tabletop wargame Bolt Action, and deals with the German Army of World War II. Within you will find background and details of the German Army's organisation and equipment from the beginning of the war (the invasion of Poland in 1939) to the very end (the fall of Berlin in 1945). Central to this book is its Army List. This includes all the information you will need to play games using the German Army. This large list details all the main troop types, vehicles and equipment fielded by the Germany Army during World War II. Alongside this main list are a number of Theatre Selectors, which give the force details for different periods and theatres of the war. These are not definitive, but are designed to give a theatre-specific flavour and character to a force. Over six years of fighting the German Army changed a lot, and many units and vehicles that were common in 1939 were obsolete by 1945 - and there were countless oddities and exceptions on every front. These sub-lists allow players to select forces suitable for the theatre in which they are playing.

More details ...
---
Bolt Action 2 Starter Set Band of Brothers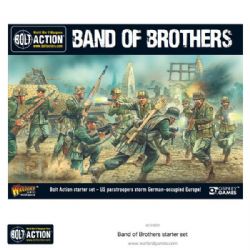 Introducing the shiny new Starter Set for the Bolt Action game, this time featuring German Grenadiers against a brand new plastic infantry set, the elite US Airborne:

'Band Of Brothers'

Contents:
•24 New Plastic US Airborne
•12 Plastic German Grenadiers
•Plastic SdKfz 251/10 AusfD. 3.7cm PaK half track
•Plastic Ruined Farm
•A5 Softback Bolt Action 2 Rules Book
•Quick Start Guide
•Quick Reference Sheet
•12 Plastic Pin Markers
•Plastic Templates and Tokens
•Construction Diagrams
•10 Six Sided Dice
•10 Order Dice


More details ...
---
M3A1 Half-track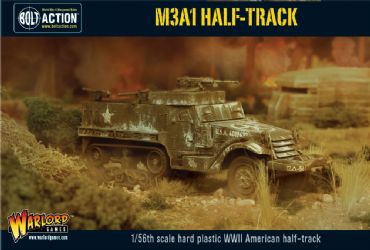 Plastic kit makes 1 M3A1 half track.

More details ...
---
Soviet ZIS-3 76mm Divisional Gun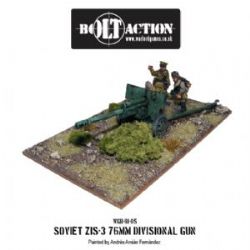 The 76mm was the backbone in many ways of the Soviet field guns. Capable of accurate direct fire and also as a howitzer, the 76mm was a classic in design and was universally used by the Russian armies even though the Korean War and beyond.
Classic Soviet artillery piece, the 76mm ZIS3 divisional gun, commander and two crew figures. This gun was made in the thousands and can be used in artillery support or anti-tank roles.
Note: Models supplied unassembled and unpainted

More details ...
---
Armies of Great Britain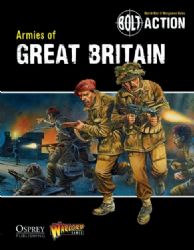 With this latest supplement for Bolt Action, players can now build an army for Great Britain and the Commonwealth. From early campaigns in Europe to the deserts of North Africa and the jungles of the Far East, British forces faced the Axis threat. The army lists presented here have all the information needed to field such elite units as the Paras, Commandos, Chindits and SAS alongside the steadfast 'Tommy'.

More details ...
---