---
Best Sellers
Sector Imperialis: Objectives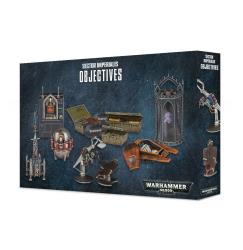 Plastic kit assembles to make several objective markers.

More details ...
---
Space Marine Devastator Squad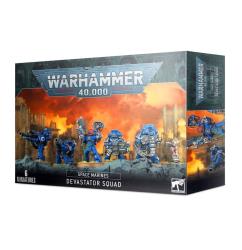 This multi-part plastic kit contains everything you need to build five Space Marine Devastators, one of which can be optionally assembled as a Space Marine Devastator Sergeant, with three Sergeant heads included. The poses these models can be assembled in are classic Devastator poses, with targeter helmets and castellated greaves designed to counter the immense recoil thrown out by their heavy weapons.
Speaking of heavy weapons, the Devastator squad features an *incredible* array of the Imperium's finest. Included in this squad:
Two Space Marine Grav-Cannon and Back Pack Assemblies;
Two Space Marine Missile Launcher and Back Pack Assemblies;
Two Space Marine Multi Melta and Back Pack Assemblies;
Two Space Marine Lascannon and Back Pack Assemblies;
Two Space Marine Plasma Cannon and Assemblies;
Two Space Marine Heavy Bolter and Back Pack Assemblies;
One each of Combi Plasma, Combi Melta, Combi Grav, Combi Flamer, Bolter and Storm Bolter;
One each of Power Fist, Power Sword, Power Axe, Lightning Claw, Chainsword and Thunder Hammer;
One each of Plasma pistol, Bolt pistol, Grav pistol.
Five Purity Seals, two Servo Skulls, a pile of spent shells, a skull base piece, ten Space Marine targeting helmets, six sets of legs, six Sergeant hands and eight Space Marine shoulder pads round out this immense collection of components.
Also supplied are five 32mm Citadel Round Bases.

More details ...
---
Warhammer 40000: Dark Imperium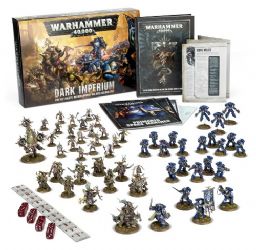 Warhammer 40.000 Dark Imperium is a great boxed set, containing everything a hobbyist needs to play a game of Warhammer 40.000.
The box contains all brand new miniatures for space marine and chaos space marine players.

Primaris Space Marines
The new Primaris Space Marines are fully compatible with any existing Space Marine army. They are great addition to any Space Marine army, including armies such as Blood Angels, Dark Angels, Space Wolves and Ultramarines.
• 2x Intercessors Squad with rifles
• 1x Hellblasters Squad with plasma guns
• 1x Inceptors squad with twin assault bolters
• Primaris Lieutenant with power sword
• Primaris Lieutenant with auto-bolt rifle
• Primaris Ancient
• Captain in Gravis armour

Death Guard
The new Death Guard are a great addition to any Chaos army such as Chaos Space Marines and Chaos Daemons.
• Plague Marine Squad
• Foetid Bloat Drone
• Poxwalkers squad
• Lord of Contagion
• Noxious Blightbringer
• Malignant Plaguecaster

The new Warhammer 40.000 rulebook
With Dark Imperium you get a copy of the new ruleset. This 280 page hardback book is the essential book for all fans of Warhammer 40.000. It contains the core rules and a host of advanced rules and different ways to play Warhammer 40.000.The book also contains a host of advanced rules that you can use to personalize your gaming experience.

In addition, the box contains:
• A 24-page Death Guard book
• A 24 page Primaris book
• 8 page Core Rules Booklet (A handy in game reference)
• A colour assembly guide for all the miniatures
• Gaming accessories, such as 12 red D6 dice, a 12" range rules, decal sheet for the Primaris Space Marines, including iconography for Ultramarines, Blood Angels, Dark Angels and Space Wolves.


More details ...
---
Space Marine Drop Pod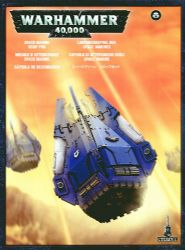 More details ...
---
Codex : Space Marines (2017)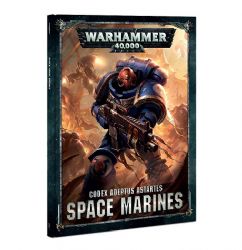 • A 208 hardback rulebook - the definitive Codex for Space Marine collectors.
• Includes background, history, full heraldry and colour schemes,
• Full rules and point values for Space Marines and Primaris Space Marines, including 85 datasheets, Battle Forged armies, Detachments, Chapter Tactics, Stratagems, Warlord Traits and much more.
Guides to the White Scars, Imperial Fists, Crimson Fists, Black Templars, Salamanders, Raven Guard and Iron Hands Chapters.

More details ...
---